Pepernoten!
December is één van mijn favoriete maanden. Nee, niet vanwege de kou, ik zit nu niet voor niets in Zuid-Afrika ;). Maar de feestdagen, daar kijk ik altijd naar uit. Zeker als je zoveel van huis bent, hecht je extra waarde aan dit soort familietradities. We vieren elk jaar met een groot gezelschap pakjesavond en koken (én eten) veel lekkers. Door mijn trainingskamp in Zuid-Afrika ben ik dit jaar helaas niet thuis op 5 december…maar speciaal voor mij hebben we pakjesavond een weekje opgeschoven.
Bij mijn ouders vond ik pas nog wat oude foto's. Zo leuk om te zien! Hoe spannend was het vroeger als de Sint met zijn Pieten langskwamen op school, of thuis. Ik deed heel erg mijn best om dat niet te laten merken haha, lukte best goed toch? Tijdens pakjesavond zong ik samen met mijn broer, zus, neefjes en nichtje zo hard als we konden Sinterklaasliedjes. M'n vader of oom glipte er dan stiekem tussenuit om op het raam te bonken. En dan stonden er in de gang grote zakken met kadootjes. Fijne herinneringen!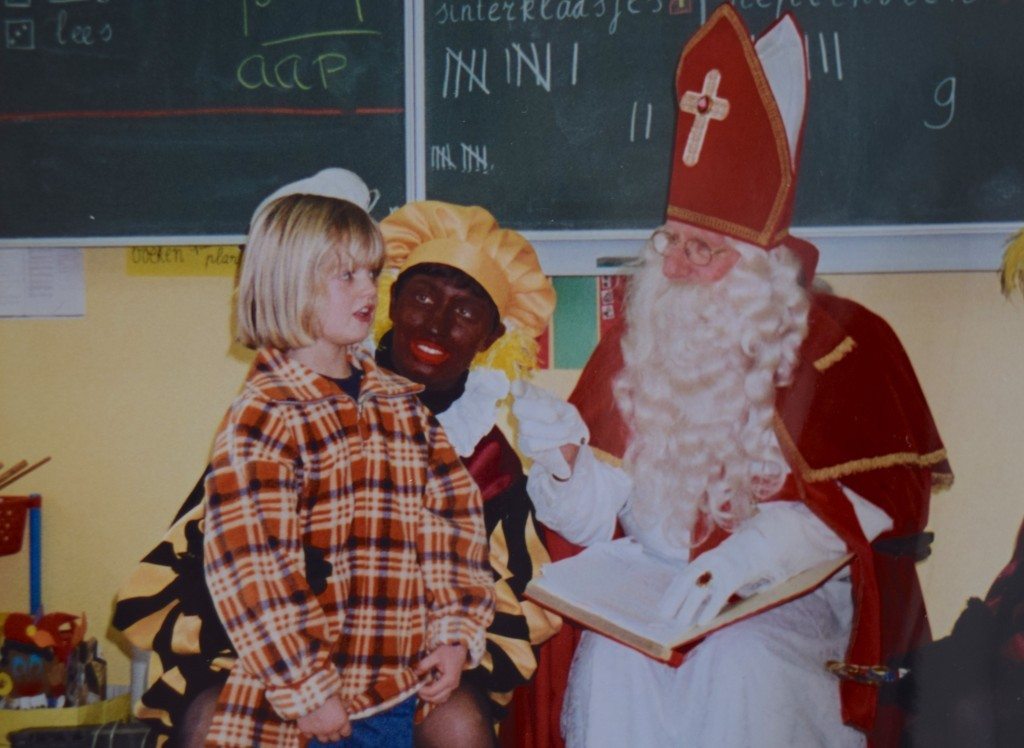 Omdat ik natuurlijk al langere tijd wist dat ik een deel van december in het buitenland zou zijn heb ik voordat ik vertrok nog heerlijke (en gezonde) pepernoten gemaakt. Zo had ik ietwat vervroegd toch alvast wat decemberpret.Als ik terugkom ga ik ze zeker nog een keer met mijn zus maken, ze waren goed gelukt! Maar voor nu eerst nog een paar weken hard werken. De trainingen hier gaan goed en ik kan me tegelijkertijd heel ontspannen alleen op mijn sport focussen. Precies waar een trainingskamp voor bedoeld is! Ik wens iedereen vanuit Zuid-Afrika alvast een fijne pakjesavond. En geniet natuurlijk van je zelfgemaakte pepernoten 🙂
Pepernoten
Ingrediënten
– 200 gram speltmeel (of de helft vervangen door amandelmeel)
– 60 gram palm of kokosbloesem suiker
– 5 eetlepels kokosolie
– 5 theelepels speculaaskruiden
– 3 eetlepels amandelmelk
– snufje zout
– 4 druppels vanille aroma
Verwarm de oven voor op 175 graden. Meng de meel, de suiker, de kruiden en een snufje zout in een kom. Smelt in een pan de kokosolie en voeg roer deze vervolgens door het mengsel. Doe de melk erbij en kneed tot een bal. Deze mag best een beetje plakkerig zijn. Eventueel kan je er nog wat meer melk bij doen. Kneed kleine balletjes en druk deze plat op een bakplaat met bakpapier. Stop ze 15-20 minuten in de oven. Als je deeg over hebt kan je daar ook hele lekkere koeken van maken. Een fijne Sinterklaasavond!